Post by alicefaye4jon on Feb 21, 2010 21:27:25 GMT -4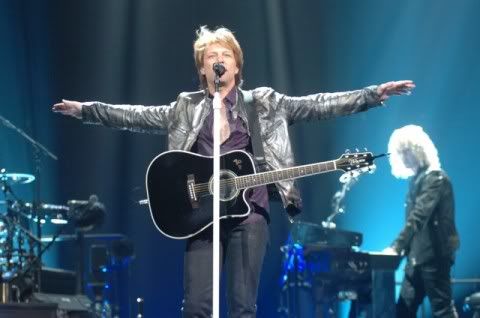 Bon Jovi can lay on the Veltveeta (i.e. "Love's the Only Rule" and "We've Got It Going On," among other songs played at tonight's tour launch at KeyArena. The band's second Seattle show is Saturday.) And yes, my eyes rolled whenever hunky front man, Jon Bon, shook his moneymaker, triggering conniption fits in half the 30- and 40-something women at the show. (I qualify it as the "official" tour launch since the band actually warmed up with a smaller set in Honolulu recently.)
All that said, I can't front on the sheer pop genius of karaoke classics "Wanted Dead or Alive" and "Living on a Prayer," the predictable but still infinitely satisfying one-two punch the veteran arena rock band walked off with. Bon Jovi (the guy) prompted everyone at "Key West Arena" to their feet before ripping through the former (hey, at least he didn't call Tacoma Seattle); and he started the finale a cappella, with the crowd responding with one of the loudest sing alongs I've witnessed in my years of reviewing.
Good stuff, as were other crowd pleasing '80s hits, "You Give Love a Bad Name" early on and "Bad Medicine" (forgot about that one) midway. But among unexpected highlights was a heartfelt delivery of Leonard Cohen's "Hallelujah" (and is it just me, or has that song experienced something of a revival in recent years? Brandi Carlile's version is pretty sweet, too, if you haven't heard it.)
Eye-popping visuals accompanied all those expected hits, notably an L.E.D. backdrop, a 96-panel video screen that shifted into different configurations overhead and smaller panels that leaned and twirled behind the band. Not quite what I expected with lead shredder Richie Sambora promised "robots" during a pre-tour teleconferences. Guess I was expecting big, gaudy AC/DC props or something.
Anyway, the band didn't give "Slippery When Wet" the full concert treatment, as hinted before the tour launched. But here's what they played to give you and idea for tonight.
Bon Jovi set list
Feb. 19, 2010, KeyArena
Blood on Blood
We Weren't Born to follow
You Give Love a Bad Name
Born to Be My Baby
Roulette
Shot Through the Heart
Beautiful
Lost Highway
Superman Tonight
We Got It Going On
It's My Life
Homebound Train (Richie Sambora sings)
Hallelujah (Leonard Cohen)
Bed of Roses
Something for the Pain
Somebody I'll Be Saturday Night
Work for the Working Man
Bad Medicine
Who Says You Can't Go Home?
Love's the Only Rule
Encore:
Thorn in My Side
Wanted Dead Or Alive
Livin' on a Prayer
Opening act: Dashboard Confessional