Post by alicefaye4jon on Feb 27, 2010 21:56:31 GMT -4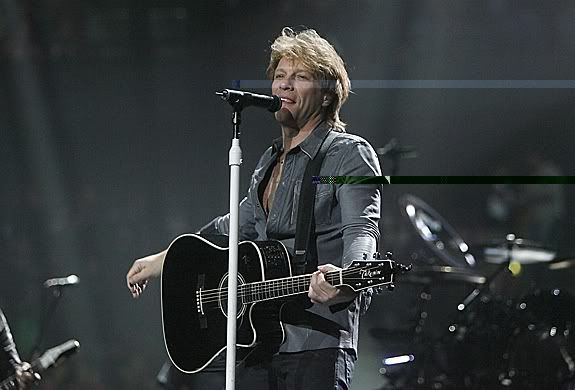 day before singer Jon Bon Jovi and his namesake band returned to Honda Center, he sent followers a tweet regarding the previous gig in Glendale, Ariz.: "Sorry some of the production didn't work; that's why I couldn't change the set list."
While the Anaheim running order varied only slightly Friday night in the first of two shows at the arena this weekend, those Phoenix-area fans must have missed out on a key component –- amazing visuals –- on The Circle world tour, which just got underway.
Nowadays, many superstar rock acts engage in a game of one-upsmanship for each concert trek, always seeking a "bigger and better" reputation. U2 tends to lead the way in unique stage, sound and lighting design; others typically tweak the Irish group's ideas or come up with something new altogether.
Modern technology sure is a wonderful thing. Bon Jovi played on a round stage with a small semi-circular catwalk, within which was filled with rows of people who paid a pretty penny for VIP packages. But my eyes were often glued overhead: I'd never seen anyone utilize screens in a similar way before. They came together, multiplied and changed shape. Additional panels morphed into makeshift stairs when Jon briefly gave fans behind the stage his undivided attention.
Yet the music is still what matters most, and this veteran New Jersey group turned in a mostly satisfying two hour, 15-minute performance that sounded great at the Honda. The still boyish-looking frontman (who turns 48 on Tuesday) was happy-go-lucky during a smattering of big '80s hits and appropriately serious amid selections from latest studio album.
The new songs are inspired by America's recent economic turmoil and political upheaval, yet they're hardly dreary. Jon and guitarist Richie Sambora specialize in writing hopeful anthems, and have done so again: sonically, the band has ditched the country-inflected elements of 2007's Lost Highway and, like U2, utilized more atmospheric guitar and keyboard textures this time out.
As the show kicked off, a descending screen flashed various words (life, joy, doubt, euphoria) and the band was seen walking through a tunnel like that pictured on The Circle's cover. It lifted to reveal the four musicians standing there soaking in the applause before taking their instruments. They opened with a rarity — "Blood on Blood," a somewhat sluggish recollection of youthful brotherhood from 1988's New Jersey — but the line "I'm still the singer in a long-haired rock 'n' roll band" drew plenty of cheers from the packed arena.
Paired with different images of world leaders and icons (President Obama, Winston Churchill, Jimi Hendrix, Bob Dylan), "We Weren't Born to Follow" was a bit more invigorating. Fans young and old pumped their fists in unison to the chorus.
"Believe it or not, we had albums before Slippery When Wet," Jon said about the diamond-certified (10 million-plus) landmark. Then the band launched into the strident, sexually suggestive hard-rocker "Get Ready" from its 1984 self-titled debut. Second guitarist/backing vocalist Bobby Bandiera — on loan from popular Jersey Shore outfit Southside Johnny & the Asbury Jukes — really proved his mettle here.
An optimistic "When We Were Beautiful" (also the title of a documentary about the band included with initial copies of The Circle) found the singer bathed in a single spotlight for his grand statement, complete with dramatic emoting and Sambora's shimmering fretwork. It came off flat, though; current single "Superman Tonight" fared better with its propulsive uplift and Sambora's dynamic slide-guitar shading.
The fun, party-hearty "Bad Medicine" (scantily clad, undulating women were projected above, matching many fortysomething ladies in the crowd below) segued into a slower take on Robert Palmer's "Bad Case of Loving You (Doctor, Doctor)." Bandiera moved front and center to share lead vocals with Bon Jovi as he reminisced about putting quarters in a bar's jukebox playing all night.
Later, Sambora would assume the spotlight to sing and serve up some bluesy guitar on the lulling, deep New Jersey album cut "Homebound Train." Concert-goers promptly made a beeline for the bathrooms and beer stands.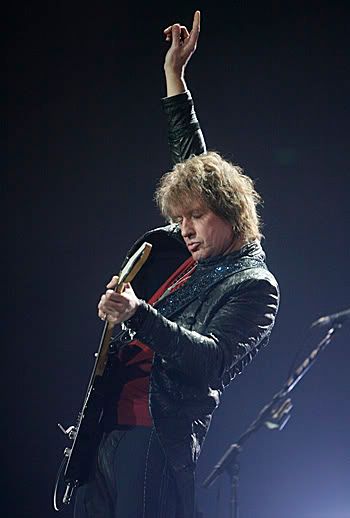 Then Jon suddenly appeared alone on the catwalk to reprise his passionate rendition of Leonard Cohen's "Hallelujah," assisted by David Bryan's subtle piano. In the rock doc, Bon Jovi boasts that it is Cohen's favorite version (and there sure are a lot of them; the track has been overused, much like Etta James' "At Last"). Still, the crowd paid rapt attention and the vocalist was clearly teary-eyed following a sustained ending note.
Everyone joined him on the catwalk for a fine, folksy acoustic segment comprised of another rarity, "Something for the Pain," and a revamped "Someday I'll Be Saturday Night."
Later, "Who Says You Can't Go Home" was smile-inducing as usual. Bryan's pulsating synths and Jon's vivacious delivery on the racing mid-tempo rocker "Love's the Only Rule" made it the best of six Circle tracks performed.
Come encore time, Sambora and his partner traded searing electric guitar licks during "Thorn in My Side," making it more interesting than the studio version. "Wanted Dead or Alive," with that descending guitar pattern as familiar to classic-rock radio listeners as the Eagles' "Hotel California," still bristled with intensity; Sambora's solo was volcanic. Finally, the high-energy "Livin' on a Prayer" featured contest video submissions on multiple screens.
Alternative rockers Dashboard Confessional — an unusual choice for opening act — drew blank stares and polite applause for their impressive 11-song, 40-minute set. One-time emo king Chris Carrabba can definitely wail, so he had no trouble cutting through one of the largest venues the band has ever played in O.C.
Concentrating on Alter the Ending (among last year's best albums), the dramatic "Blame It on the Changes" and charming "Belle of the Boulevard," plus the chunky guitar-driven "Until Morning" and "I Know About You," fared best among the new material. More introspective numbers ("Even Now, "Stolen") were somewhat overwhelmed by the hugeness of Honda Center. A straightforward and surprising cover of Bryan Adams' "Summer of '69" worked well and finally got the crowd's attention at the end.
Both bands return for another Honda Center show tonight at 7:30 p.m. (Dashboard Confessional fans should arrive well before that), $41.55-$152.40, and then it's on to Staples Center on Thursday at 7:30 p.m., $22.70-$153.
Photos by Armando Brown, for the Orange County Register.
Set list: Bon Jovi at Honda Center, Feb. 26, 2010
Main set: Blood on Blood / We Weren't Born to Follow / You Give Love a Bad Name / Get Ready / Born to Be My Baby / When We Were Beautiful / Superman Tonight / We Got It Going On / Medley: Bad Medicine/Bad Case of Loving You (Doctor, Doctor) (Robert Palmer cover) / It's My Life / Homebound Train / Hallelujah (Leonard Cohen cover) / Bed of Roses / Something for the Pain / Someday I'll Be Saturday Night / Keep the Faith / Work for the Working Man / Who Says You Can't Go Home / Love's the Only Rule
Encore: Thorn in My Side / Wanted Dead or Alive / Livin' on a Prayer
The Above Review and Pictures Came from the Orange County Register.