Post by alicefaye4jon on Mar 16, 2010 12:37:02 GMT -4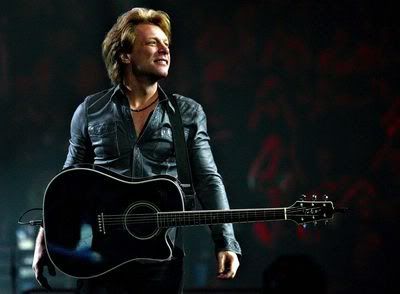 From the Kansas City Star
Photos By: Chris Oberholtz
The news about ticket sales in the weeks preceding this show was ominous: via one or two on-line specials, fans could get tickets in the cheaper seats for as much as half-off. Plus, all the media were running ads for the show the weekend before.
Those blue-light specials and fire sales must have tipped the scales for some Bon Jovi fans. Monday night, a crowd of roughly 12,000 came to the Sprint Center to witness a band that was in town for the third time in less than two years. So the crowd was respectably large, and the band indulged it with a show that justified the price of most of the seats: about two and a half hours and more than two dozentunes, including all of its early, blockbuster hits. But given the pulse of the show -- there were several lulls and sit-down moments -- it also demostrated that it's tough to get fired up and nostalgic over something that's still pretty familiar.
They opened with "Blood on Blood," a track from the 22-year-old "New Jersey" album, now 22 years old, then something brand new, "We Weren't Born to Follow," from last year's "The Circle." Neither was a hit, and neither set the room on fire. The place didn't really ignite until "You Give Love a Bad Name," about 15 minutes into the show.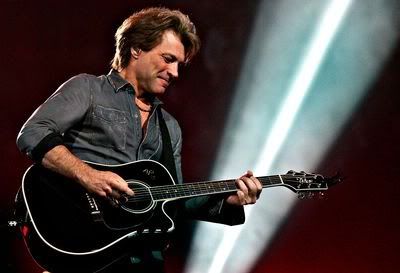 And so the pace was set: something recent, like "Whole Lotta Leaving" or "Lost Highway," something vintage for the diehards, like "Keep the Faith,'" and something gold or platinum for the entire house, like "Bad Medicine" or "Wanted Dead or Alive."
The stage was set up for success. Behind and above the band, video screens broadcast live and recorded images all night. One of the screens split itself into various squares and rectangles. At one point it was eight long ribbons of screen that each split into eight separate screens so there were 64 images shown all at once. And at least from the floor, the sound was crisp and clear.
Still, there was some down time and moments when the crowd acted like it was waiting for something bigger to happen, like during the stripped-down acoustic set. The band moved up stage and Tico Torres thumped a box and David Bryan played accordion and the boys sang "Something For The Pain" and "Someday I'll Be Saturday Night" and sounded a little to much like Rascal Flatts (the one band that might be more metrasexual than Bon Jovi).
Proving that one person's pain can be another's pleasure, Jon Bon Jovi executed an over-wrought and smarmy version of a song that has been covered more than the infield at Wrigley: Leonard Cohen's "Hallelujah." And most of the room went bonkers over it, even when he did his best Bono-like heavenly gestures, over and over.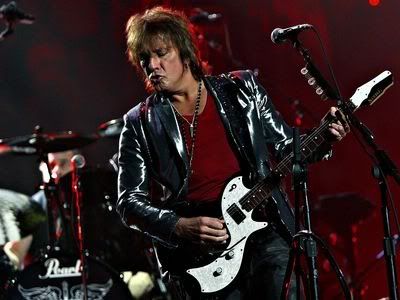 Gutiarist Richie Sambora got a nice hand for his generic hard-rock/blues number, "Homebound Train," but it, too, became a break-time moment for many. Those lulls wound everybody up for what was expected: more gold. Or at least something everyone wanted to hear and knew the words to, even something new like "Who Says You Can't Go Home."
They ended the main set with the lukewarm hymn "Love's the Only Rule." But they soon returned for a five-song encore that included three of their oldest and surest tracks: "Runaway," "Wanted Dead or Alive" and the song the crowd had been anticipating all night, "Livin' On A Prayer."
The crowd gave it the usual loud-and-rowdy sing-along, but to someone who has been at all three shows, this version didn't sound like it ignited the uproarious mania that the others did back in April 2008. In fact, nothing in this show reached the climaxes of either of those shows. Sure, you can always go home, but you can also visit too often.
Dashboard Confessional: The emo king and his band opened, a pairing, it turned out, that wasn't as odd as it seemed, especially when they tore into Bryan Adams' "Summer of '69" (they also covered U2's "In The Name of Love"). But even when they sang one of their own, like "Stolen," "Vindicated" or "Widow's Peak," some of the younger folks in the crowd sang-along, winsomely.
Setlist: Blood on Blood; We Weren't Born to Follow; You Give Love A Bad Name; Whole Lot Of Leavin'; Born To Be My Baby; Lost Highway; When We Were Beautiful; Superman Tonight; We Got It Goin' On; Bad Medicine/Born To Be Wild; It's My Life; Homebound Train; Hallelujah; I'll Be There For You; Something For The Pain; Someday I'll Be Saturday Night; Keep The Faith; Work For The Working Man; Who Says You Can't Go Home; Love's The Only Rule. Encore: Runaway; Wanted Dead Or Alive; I Love This Town; I'll Sleep When I'm Dead; Livin' On A Prayer.